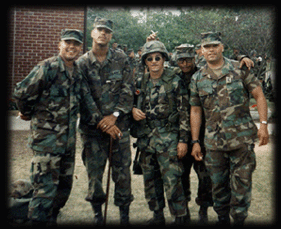 chillin' with the boys at Fort Dix
(I'm in the middle)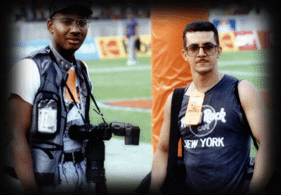 Olympic Stadium, Germany
Aside from computers, I enjoy photography as a hobby. I was actually into photography before computers and I did have the opportunity to work as an Army photographer with the Berlin Brigade while I was stationed in Berlin, Germany from 1990-1992.
I am especially proud of the time I spent in the military.I would like to take this opportunity to salute all the men and women who have served and are currently serving in all branches of the military.
STAND TALL AND STAND PROUD!

Also, aside from computers and photography, I am also into drums. On this site you'll find some mp3 tunes from my last band, 'MOTEL SOAP' and other bands I was in. I shake it loose to jazz, fusion, rock, funk, and THE BLUES! Even though I'm a drummer I'm also a bit of a guitar fanatic but I'm limited, unfortunately, to 'air' guitar!

Jimi Hendrix ,Gary Moore, Steve Lukather, Robben Ford, Stevie Ray Vaughan, Steve Morse, Coco Montoya, Chris Duarte, Stevie Salas, Albert Collins and Ritchie Blackmore are just some of my favorites but the list is long. Oh yeah, can't forget the man with the ferocious guitar riffs...Akira Takasaki. Smokin'!

In the drum world it's Dennis Chambers, Neil Peart, Steve Gadd, Akira Jimbo, Jeff Porcaro, Bill Bruford, Billy Cobham, Ian Paice, Buddy Rich ( a true master!), Tommy Aldridge, Joe Franco, Mike Portnoy, David Garibaldi, Mick Tucker, Dennis Bradford, etc. Again, the list is long. I like different drummers for different reasons.



I'm a music fanatic, simple as that! I was heavily into jazz-fusion back in the 70's and still love it; Return to Forever, Dixie Dregs, Billy Cobham, UK, Al DiMeola, Colosseum II, Niacin, etc. Love the chops!! I prefer my rock music from the 70's and 80's, bands like UFO, Thin Lizzy, Y&T, Deep Purple, The Sweet, Led Zep, Scorpions, Talas, Michael Schenker Group, Pat Travers Band, Kansas, Yes, ELP, Jon Butcher Axis, and on and on.

OK, that's just a little something about me.
I'd tell you more but that's classified. :)
Enjoy your visit and feel free to send me an
e-mail. Thanks and happy surfing!